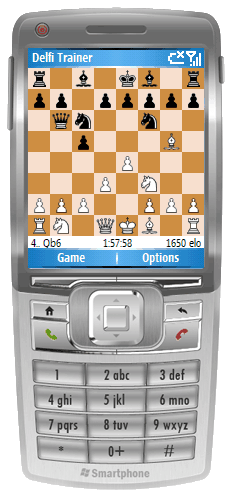 MSB di F. Cavicchio,
Via Goetz 93, Classe
48100 Ravenna RA - ITALY.
VAT 01379350398
FAX / TEL: +39 0544 527265
CELL: +39 339 2739548
EMAIL: info@msbsoftware.it
WEB: www.msbsoftware.it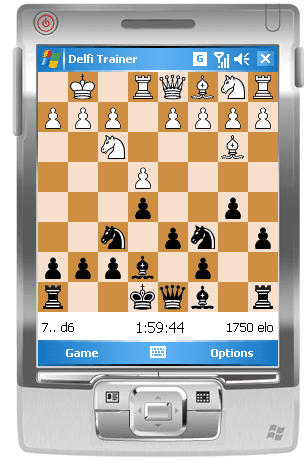 Pocket Delfi is a software designed for tournament players, who need to train playing long-time games against standard opponents.


Calibrated strength.
Pocket Delfi Trainer emulates a chess player in the range 1000..2300 ELO. The level is independent on the speed of the Pocket PC.


Random play.
Pocket Delfi will never play the same games against you, and let you choose the opening line at the beginning of the game. The opening book is also calibrated on the average knowledge of a given ELO-rated player.


Strong and quick if needed.
Thanks to the internal Delfi 5.4 engine it reaches 2100 Elo in a few seconds. You will be able to play standard 2 hours / 40 moves without waiting the reply from your opponent.


SYSTEM REQUIREMENTS
Windows Smartphone or Pocket PC (2002,2003,WM5,WM6) with or without touchscreen (176x220, 240x240, 320x240, 240x320, 320x320 or bigger).
An extra work was made to support old Pocket PCs 2002 and 176x220 smartphones, which are now common on EBay for 60-70$.

PURCHASE
Pocket Delfi costs 19 euro. Two years of free upgrades and technical assistance is included. Click here for more information.

DOWNLOAD - Demo version 1.0
This demo version plays at 1000 elo after ten moves. By the way, 1000 elo is fine for smart beginners and children. (A human absolute beginner plays at 800 elo).
Download: DelfiSetup.zip as Windows installer, or Delfi.cab as CAB installer.

DOWNLOAD - Free version 0.7
This version let you play at 1000-2100 elo, but many features were missing (opening book, underpromotion, save game, view moves, flip board, etc.). Smartphones without touchscreen are not supported, 240x320 is the only resolution supported.
Download: Delfi07Setup.zip as Windows installer, or Delfi07.cab as CAB installer.

Before installing the demo version or the free version, please uninstall the other version. Both versions cannot be installed at the same time.



[E-Mail] [Home]